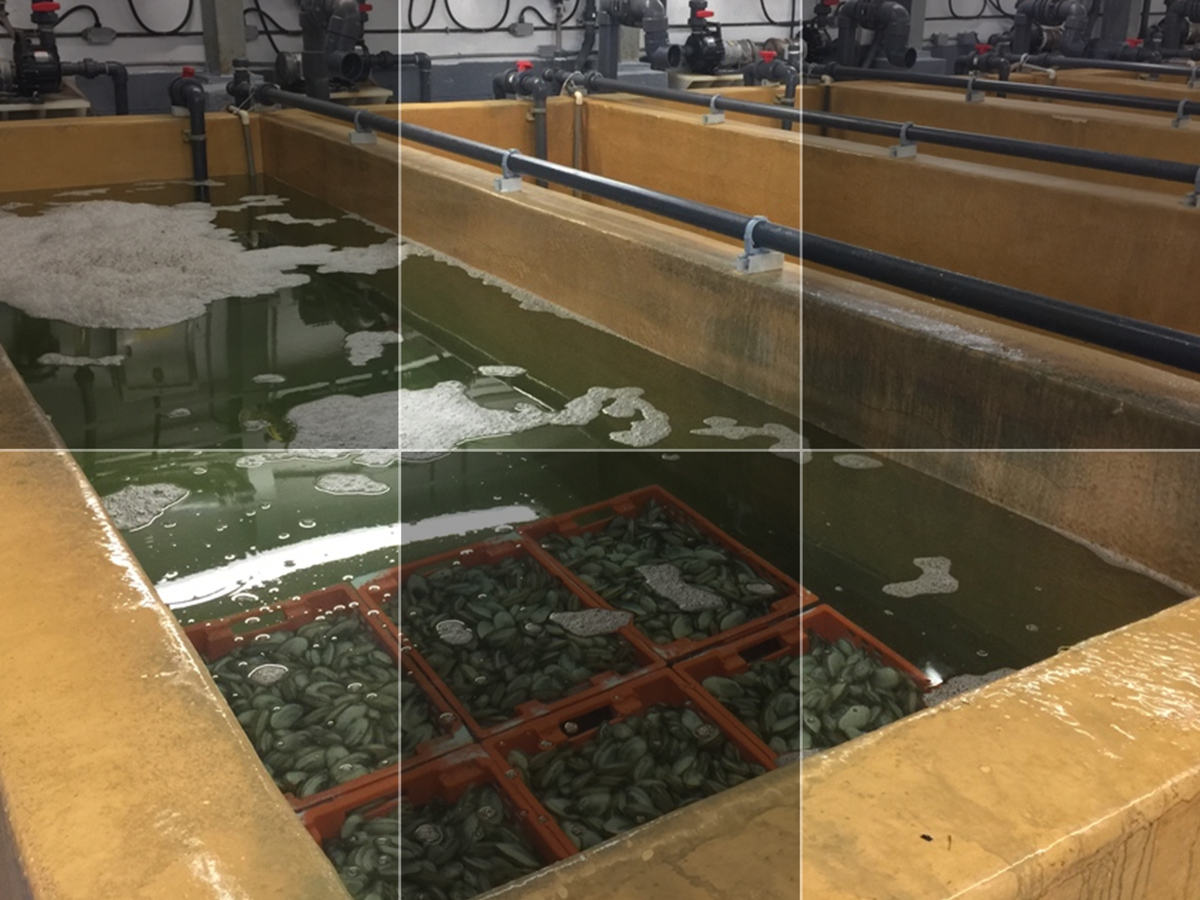 The systems are designed with UV lamps to disinfect aquaculture and fish environment water supplies. For over 30 years, Glasco UV has been working with private, federal, state and other governmental hatcheries. Applications include fish farms, fish hatcheries, depuration plants, aquariums and other aquaculture facilities that need UV disinfection technology.
Systems are scalable and available with many options including PLC controls for integration into facility network. UV fish systems are designed in a variety of configurations. From closed pressure vessels to vertical or horizontal open channels and are designed to treat both fresh and seawater. Systems are manufactured from stainless steel and from PVC for aggressive waters.
UV disinfection works well on a wide array of water borne pathogens. Many of the projects we work on relate to seafood. Salmon, trout, oysters and clams make up the largest percentage of our work. There are specific pathogens that are of concern in these markets. The pathogens fall into the following groups: Bacteria, Virus, Algae, Protozoa and Fungi. Some are easily disabled using low dosages of UV light. Many require much higher doses. For example, most drinking water related pathogens require UV doses of 40 mJ. Some drinking water pathogens like Adenovirus require 186 mJ. For aquatic & fish waters, we see similar dosages being required. However, the most serious virus, Infectious Pancreatic Necrosis Virus (IPNV) requires a UV dosage of 246 mJ/cm2.
Glasco UV works with governmental agencies like the National Oceanic and Atmospheric Administration (NOAA). NOAA Fisheries are "responsible for the stewardship of the nation's ocean resources and their habitat. They provide vital services for the nation: productive and sustainable fisheries, safe sources of seafood, the recovery and conservation of protected resources, and healthy ecosystems—all backed by sound science and an ecosystem-based approach to management."
NOAA says that "U.S. fisheries are among the world's largest and most sustainable. Seafood harvested from U.S. federally managed fisheries is inherently sustainable as a result of the U.S. fishery management process. Using the Magnuson-Stevens Act as the guide, NOAA Fisheries works in partnership with Regional Fishery Management Councils to assess and predict the status of fish stocks, set catch limits, ensure compliance with fisheries regulations, and reduce bycatch."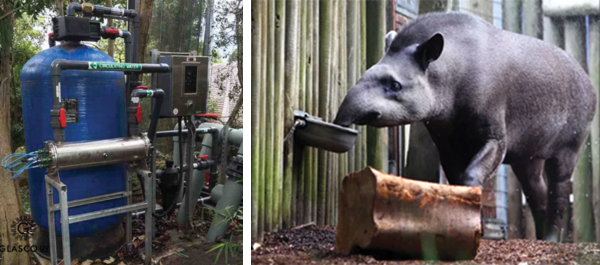 Taronga Zoo Langur & Tapir Exhibit
Pool Separation, Sand Filtration & UV Disinfection
To learn more about our project at the Taronga Zoo in Sydney Australia click here.
Virus UV Disinfection
Atlantic Halibut Nodavirus (AHNV)
Channel Catfish Virus (CCV)
Chum Salmon Virus (CSV)
Epizootic hematopoietic necrosis virus (EHNV)
Infectious Hematopoietic Necrosis/CHAB (IHNV)
Infectious Hematopoietic Necrosis/RTTO (IHNV)
Infectious Pancreatic Necrosis Virus (IPNV)
Infectious Salmon Anemia Virus (ISAV)
Koi Herpes Virus (KHV)
Largemouth Bass Virus (LMBV)
Oncorhynchus Masou Virus (OMV)
Salmon alphavirus (SAV)
Viral hemorrhagic septicemia virus (VHSV)
Viral Nevous necrosis (VNN)
Bacteria UV Disinfection
Aeromonas hydrophila
Aeromonas veronii Biovar Sobria
Aeromonas sobria Biovar Sobria (Motile aeromonads)
Aeromonas salmonicida
Aliivibrio salmonicida (formerly Vibrio salmonicida)
Bacterial Kidney Disease
Edwardsiella ictaluri
Edwardsiella tarda
Flavobacterium branchiophila
Flavobacterium columnare
Flavobacterium psychrophilum
Lactococcus garvieae (formerly Enterococcus seriolicida)
Listeria monocytogenes
Moritella viscosa (formerly Vibrio viscosus)
Mycobacterium marinum
Pasteurella skyensis
Photobacterium damselae subsp. piscicida (formerly Pasteurella piscicida)
Piscirickettsia salmonis
Pseudomonas anguilliseptica
Pseudomonas fluorescens
Renibacterium salmoninarum
Streptococcus
Streptococcus iniae
Streptococcus parauberis
Streptococcus phocae
Tenacibaculum maritimum (formerly Flexibacter maritimus)
Vibrio anguillarum
Vibrio carchariae (syn.: Vibrio harveyi)
Vibrio ordalii
Vibrio spp.
Vibrio vulnificus
​Yersinia ruckeri​
Fungi UV Disinfection
Cladosporium sphaerospermum
Exophiala angulospora
Exophiala pisciphila
Exophiala xenobiotica
Mucor circinelloides
Ochroconis humicola
Ochroconis humicola
Paecilomyces lilacinus
Penicillium corylophilum
Phialemonium dimorphosporum
Phoma herbarum
Pasteurella piscicida)​
Protozoa
​Certomyxa Shasta
Costia Necatrix
Cryptocaryon irritans (marine white spot)
Ichthyophthirius multifiliis (freshwater white spot)
Ichthyophthirius Tomites
Larcina lutea (Micrococcus luteus)
Myxobolis Cerebralis (whirling diseases)
Perkinsus marinus (dermo disease)
Trichondina Nigra
Trichondina Sp
Mesomycetozoea UV
Clupea harengus
Clupea pallasi
Cyprinus carpio
Dermocystidium branchiale
Dermocystidium cyprini
Dermocystidium fennicum
Dermocystidium koi
Dermocystidium percae
Hypomesus pretiosus
Ichthyophonus hoferi
Ichthyophonus irregularis
Leucaspius delineatus
Microgadus proximus
Oncorhynchus kisutch
Oncorhynchus kisutch
Oncorhynchus mykiss
Oncorhynchus mykiss
Oncorhynchus tshawytscha
Oncorhynchus tshawytscha
Pleuronectes flesus
Pseudorasbora parva
Rutilus rutilus
Salmo salar
Salmo trutta
Salmo trutta
Salvelinus fontinalis
Sebastes alutus
Sebastes emphaeus
Sebastes flavidus
Sphaerothecum destruens
Sprattus sprattus​​
Oomyctes UV
Achlya ambisexualis
Achlya americana
Achlya bisexualis
Achlya klebsiana
Achlya racemosa
Achlya. oblongata
Ameiurus melas
Anguilla anguilla
Aphanomyces frigidophilus
Aphanomyces invadans
Aphanomyces irregularis
Aphanomyces laevis
Aphanomyces parasiticus
Aphanomyces salsuginosus
Archosargus probatocephalus
Astyanax eigenmanniorum
Astyanax fasciatus
Bairdiella chrysoura
Barbus paludinosus
Barbus poechii
Barbus unitaeniatus
Bidyanus bidyanus
Brevoortia tyrannus
Brycinus lateralis
Catla catla
Channa marulius
Clarias gariepinus
Clarias ngamensis
Coregonus lavaretus holsatus
Cyprinus carpio
Fundulus heteroclitus
Fundulus majalis
Hepsetus odoe
Hydrocynus vittatus
Ictalurus punctatus
Labeo cylindricus
Labeo lunatus
Leiopotherapon unicolor
Lepomis macrochirus
Maccullochella peelii
Macquaria ambigua
Marcusenius macrolepidotus
Micralestes acutidens
Micropterus salmoides
Mugil cephalus
Mugil curema
Nematalosa erebi
Odontesthes bonariensis
Oncorhynchus masu
Oncorhynchus mykiss
Oncorhynchus mykiss eggs
Oncorhynchus mykiss Salmo salar eggs
Oncorhynchus nerka
Oreochromis andersonii
Oreochromis macrochir
Oreochromis niloticus niloticus
Pelteobagrus fuvidraco
Petrocephalus catostoma
Pharyngochromis acuticeps
Plecoglossus altivelis
Pogonias cromis
Pythium aquatile
Pythium pulchrum
Pythium thalassium
Pythium torulosum
Salmo salar eggs Salmo trutta
Salmo trutta
Salvelinus leucomaenis
Saprolegnia australis
Saprolegnia brachydanis
Saprolegnia diclina
Saprolegnia ferax
Saprolegnia furcata
Saprolegnia hypogyana
Saprolegnia parasitica
Saprolegnia polymorpha
Saprolegnia salmonis
Saprolegnia shikotsuensis
Sargochromis codringtonii
Sargochromis giardi
Schilbe intermedius
Sciaenops ocellatus
Serranochromis angusticeps
Serranochromis macrocephalus
Serranochromis robustus
Silurus glanis
Tilapia rendalli
Tilapia sparrmanii​